SignTraker Introduces Enhanced API Technology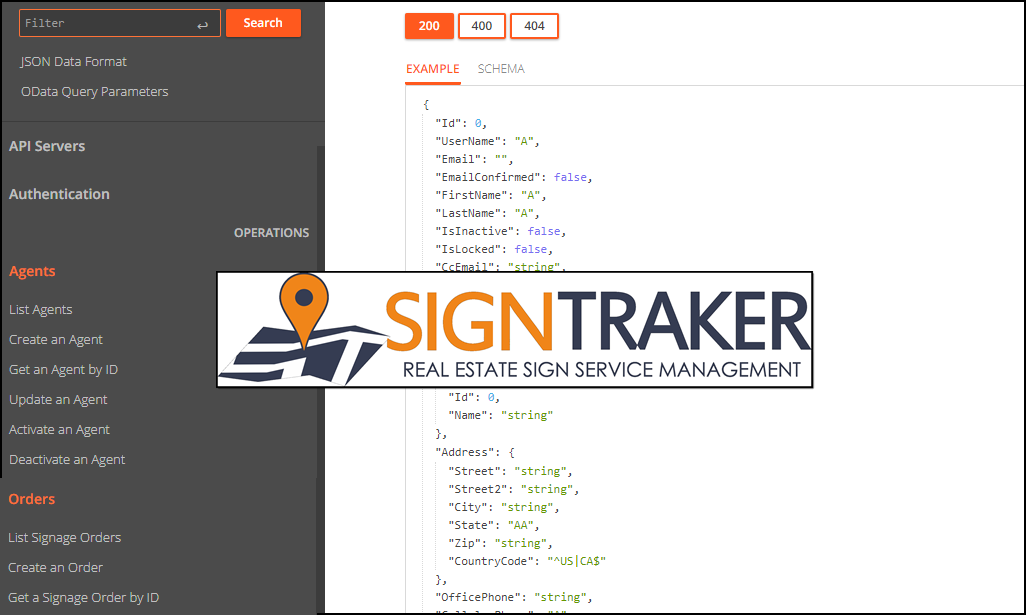 SignTraker Technologies Introduces Newly Enhanced API
Enhanced Application Programming Interface (API) to Enable High-Volume Order Processing for Local and Nationwide Real Estate Companies
Advancing Capabilities for High Volume Real Estate Sign Installation    
SignTraker® continues to expand the abilities of local and national real estate companies– and the sign installation companies that support them– to increase their processing volume and lower costs. The initial release of the SignTraker Open API® primarily supported automated management of agents and sign installation orders. 
The current release expands on this core capability and adds essential functions necessary to support more granular, targeted real estate sign installation and marketing: 
"We are continuing to steadily expand our capabilities to support the larger regional real estate brokerages that our SignTraker Licensees are attracting. When a big account asks if they can processes orders automatically, we want them to say yes," stated Douglas Deist, Vice President of Marketing and Technology. "Even if it is just an Excel® or CSV flat file import, we still want them to be in the position to say 'Yes, we can help you with that.' " 
Change Orders, Service Orders, and Regional Standardization Supported  
For regional and nationwide real estate companies using a SignTraker National Account Portal®, the ability to automatically implement Change Orders® (for example, removing a 'Priced Right' rider and adding an 'Under Contract' rider) is now available. For many companies, the ability to have the real estate sign configuration change as the lifecycle of the sale progresses is important. 
Similarly, ordering repairs, post moves, solar lighting additions, and and similar standard or premium Service Orders is now possible. Automatically generated instructions can now be initiated at the national level, and be processed on the local level.
Further, Regional Standardization of nationwide real estate sign installations and services is supported with approved real estate sign installation configurations and service requests.
The SignTraker National Account Portal 
The SignTraker National Account Portal is a customer-branded entry point for the input and management of real estate sign installation order requests for regional brokers and national real estate companies. Orders can be entered manually, by flat file transfers, or via API.
SignTraker Authorized Providers operating in a network provide comprehensive sign installation services to local, regional and national accounts. The SignTraker Enterprise Data Backplane® is used to accommodate regional variations in pricing and products, as well as similar regional variations in services– including lead times related to utility marking regulations, post type availability, and similar localized details. For manual order entry, the backplane enables a National Account User to log into a single location (their branded SignTraker National Account Portal) and be automatically presented the pricing, scheduling, and other relevant details for the sign installer in the local market where the sign will be installed– all automatically and transparently. 
For additional information on SignTraker's National Account Service Program that provides access to SignTraker's network of professional sign installers throughout the United States and Canada, or for information on how your sign installation company can participate in the SignTraker network, contact Douglas Deist, Vice President, Marketing and Technology, at 443-938-9178 Ext 2.   
---
SignTraker Technologies LLC is a privately held sign installation service software provider located in Gaithersburg, MD.  The company supplies cloud-based mobile software, consulting, and durable products to companies and real estate firms interested in providing a superior ordering and sign marketing experience for their stakeholders. For additional information, contact sales@signtraker.com.
Have questions on SignTraker's capabilities?
Compass Sign Installation, Home Coin Sign Installation, Berkshire Hathaway Sign Installation, Coldwell Banker Sign Installation, Open Door Sign Installation, Redfin Sign Installation, Ideal Agent Sign Installation