SignTraker Installations Rocket 24%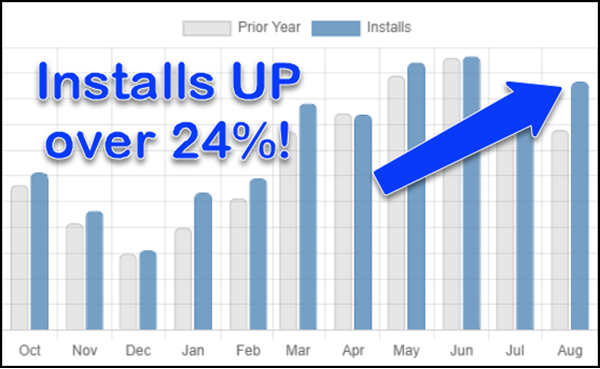 New August Record– In Spite of Market Downturn
Many New Customers, Markets, and SignTraker Owner Acquisitions 
Record Number of New SignTraker Owners Over the Summer
SignTraker Technologies signed a record number of Licensees over the summer, adding many new providers in several markets across the country– including three markets where the strength of the existing SignTraker owner enabled them to overtake and acquire their competitor. The new markets included:
Florida

:

Post Pros Orlando (Orlando, FL)

Just Sign It Listing Services (Pensacola, FL)

South Florida Sign Company (Ft. Lauderdale, FL)

Space Coast Sign Installation (Melbourne/Cape Canaveral, FL)

Tony's Sign Service (Port St. Lucie, FL)

California

:

Signpost Installations (San Diego, CA)

South Carolin

a:

Post and Panel 360 Carolinas (Greenville, SC) *

Sign Perks (Columbia, SC)

Colorado

:

Rocky Mountain Sign Guy (Denver, CO) **

Sure Sign Services (Pueblo, CO)

Texas

Brake Property Management (Lubbock, TX)

Wisconsin

:

Amplify Graphics & Branding (Milwaukee, WI)

Badger Lister (Wausau, WI)

Pennsylvania

:

JG Sign Installation (Harrisburg, PA)

Tap It In Signs (Philadelphia, PA)

Maine

:

Mr. Post Man (Lyman, ME) ***

New York

:

In Sign Out (Westchester, NY)

Utah:

Goodies Signs (Salt Lake City, UT)

Canada

:

Blue Collar Sign Installation (New Minus, Canada)

 
* This company was acquired by SignTraker provider Mission Listing Services, Greenville, SC

** This company was acquired by SignTraker provider Listing Pro by Axium, Denver, CO

*** This company was acquired by SignTraker provider Northeast SignTraker (aka Maine Post and Sign), Portland, ME
The Need to Keep Overhead and Personnel Costs Down
A common challenge for sign installers is not having enough people, and working too hard– too many little issues sucking up too much valuable time. SignTraker addresses this, and provides far more value than what the owners pay. Says Joe Twiss, VP Operations at EZ Sign Service, who supports thousands of customers throughout the Raleigh-Durham NC market: "I was getting prepared to hire another person to manage the work we had to do with our previous system, stuff the software should really be doing. With SignTraker, not only did I not have to hire a person, I'm getting home at a reasonable hour now because of all the automatic functions that we used to have to do manual work-arounds for."
Many New Start-Ups
SignTraker enjoyed great success attracting several new start-up companies in South Carolina, Texas, and Wisconsin– among others. A common comment of these new owners: "You guys look like you know what you are doing and have really thought through all of the day-to-day details, much more so than anything else we've seen."
Several SignTraker Owner Acquisitions
Three new markets came about because the respective SignTraker owners were able to provide a better customer experience– regardless of price— enabling them to attract the customers of their competitors, ultimately overtaking them.
Account Migrations
Four of the accounts migrated from other well-known sign installation apps. Because making such a change is not to be taken lightly, the value of making an enterprise change has to be compelling. Said one new owner: "I've been watching SignTraker for a few years now, seeing their emails and such. They always seem to be growing and expanding, coming out with new stuff. I really wasn't paying too much attention, but one of my customers said I should check it out. After I actually saw it, I realized that we've just been standing still. We made the change, and we had a couple of bumps, but it really wasn't that hard. Our customers are very happy."
Looking for More Control, More Branding
In addition to the various functional elements that make SignTraker a better operational choice for the these owners, many also shared a common objective: to be in control of their own destiny, and especially their data and brand identity. Said Steven Palmer, Owner/Strategist at Sign Perks LLC, Columbia SC: "We are a brand-centric company, branding is our business. Our customer and transaction data is our business DNA– we need to own that. I see us getting that and more from SignTraker."
For additional information on SignTraker's real estate sign tracking and real estate sign installation software, or how to join SignTraker's network of professional sign installers throughout the United States and Canada, contact Douglas Deist, Vice President, Marketing and Technology, at 443-938-9178 Ext 2.   
---
SignTraker Technologies LLC is a privately held sign installation service software provider located in Gaithersburg, MD.  The company supplies cloud-based mobile software, consulting, and durable products to companies and real estate firms interested in providing a superior ordering and sign marketing experience for their stakeholders. For additional information, contact sales@signtraker.com.
Have questions on SignTraker's capabilities?
Compass Sign Installation, Home Coin Sign Installation, Berkshire Hathaway Sign Installation, Coldwell Banker Sign Installation, Open Door Sign Installation, Redfin Sign Installation, Ideal Agent Sign Installation