One of My Prospects Wants to Use Their Own Custom Posts. How do I Manage This?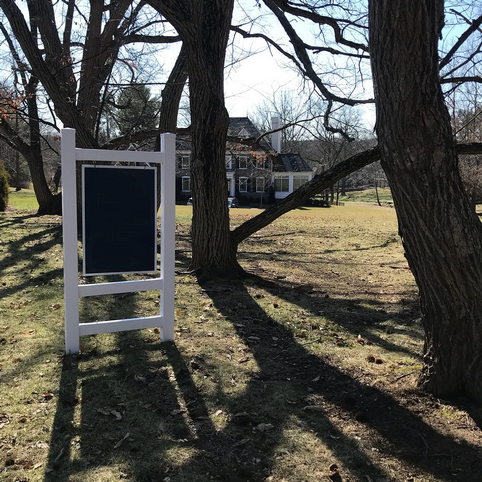 Q: A major account I am trying to win wants to use their own custom post. I am reluctant to agree to this because the last time I did that [in my old software], it was impossible to manage it. My regular customers kept requesting the other customer's special post! It was aggravating to everybody. I had to edit or cancel their orders and tell them that they couldn't use those posts. However, I see that SignTraker can create "non-standard" Post Types. How do I do that, and can I use that feature in this situation?
A: Yes Pete, this is exactly what we built this feature to do. Using the Sign Post Configurator, you can represent all the major residential and commercial signs types in use today. Once you define the post, you can then make it available to just the customers that should have it. This way, you can:
Provide the "custom" service your Major Account prospect is looking for, and

Do it easily and automatically– including the billing
To use this feature, access the Post Types menu item under Products and Pricing in your SignTraker. Here you can fully define all attribute of the post, including:
Post name (as it will be displayed to your customers)

Post style (the basic post type, see more on this below)

Standard post type option (for a specific customer, leave this UN-checked)

Rebill (extended rental) option (if you will own the post, you will probably leave this option checked so extended rental fees will be automatically applied by SignTraker)

It's Part Number (for use in your QuickBooks accounting)

Pricing (uplift OR discount)

Color

Material

Size

Allowable panel and rider sizes

Allowable number of top and bottom riders

Maximum hanging height of the combined panel and/or rider combination (if a swing-type post)

Top design of the post (triangle or square, if a wall mount or rail mount post)

Example photo (so customers can see an example when choosing a post)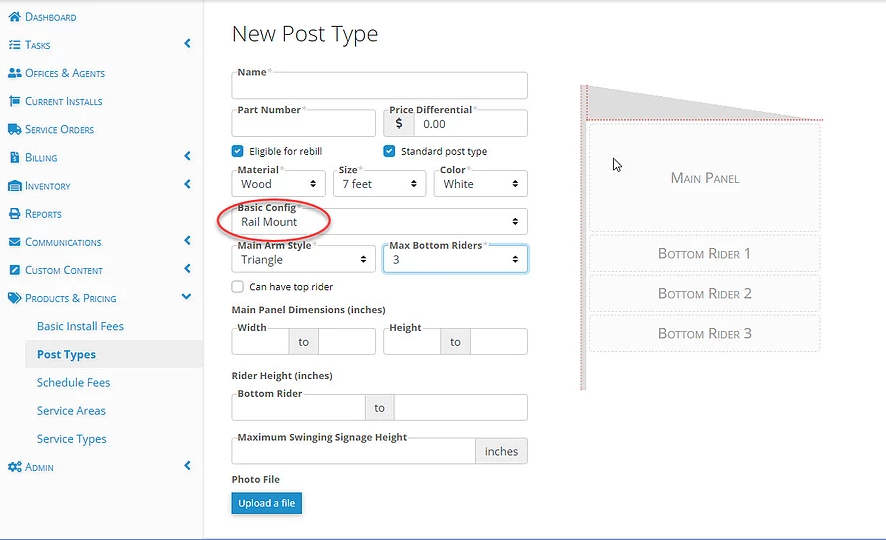 The various post styles (types) supported by SignTraker include:
Single Swing Post—the most common sign post

Wall Mount—usually used in metro areas, where the sign is hung on an arm on the building

Rail Mount—wherein the sign is hung from a thin bar or flag-type post that is mounted to a railing or fence

Two Post Frame—typically used in commercial or residential developments, or to define small, conventional metal "H" frame 'stick in the ground' signs

Double Bill Board—similar to the Two Post Frame, but used on corners or similar areas where display on two different streets is desired (typically two large 4×8 panels mounted on three 4×4 wood posts)

Center Post—typically used in new developments, this is often a simple post with a single panel permanently fixed to it to identify lot numbers
Using these variables, you can represent all these types of signs, all of the design details for each of them, and easily manage their application to various individual customers:
There is also a tutorial video you can view to give you additional insight on how to use this powerful capability. Check it out on YouTube here: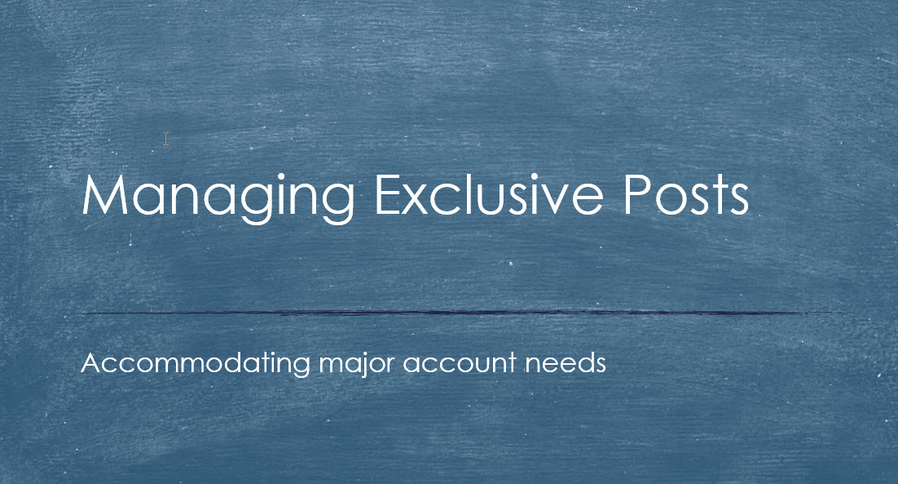 ● Summary: By utilizing the SignTraker Post Configurator and Exclusive Post Settings, you can offer exactly what your prospect (or current accounts) want, at the lowest possible operational cost to you– and certainly at a lower cost than your competition!
◊ Pro Tip: While you can easily manage custom post types in your SignTraker, you might consider to add a modest price uplift to accommodate the "custom" nature of your service. It is a competitive advantage that you have!
◊ Pro Tip: Are you transitioning from conventional wood posts to the modern, high quality wood textured PVC posts? When creating this new post in your SignTraker, you might consider adding it with a modest price premium ($3-10). This will help defray the cost of the new post inventory, and temper the increased demand for this good-looking post while you are in your wood->PVC transition.
Have a question? Contact live help at 443-938-9178, Opt 1.
Comments on this post? Email us at blog@signtraker.com
Follow SignTraker on Twitter at @SignTrakerTech and Facebook @SignTraker
758 total views